The summer is not the ideal time to have a problem with your HVAC unit. Getting your system routinely maintained before the start of the season can often help you identify problems before they occur. It could potentially save you money and avoid a situation where it stops working when it's most necessary. We often notice signs that indicate you may need an HVAC repair.
It's important to respond to these signs quickly so that the HVAC unit runs efficiently and problem-free. Let's dive into some problem signs to look for when deciding whether your HVAC unit may need an air conditioning repair.
Signs You Need An HVAC Repair
Air conditioners will last between 10 and 15 years before needing to be replaced. Keeping your HVAC unit properly maintained and identifying issues before they become bigger problems will help extend its lifespan. Here are six signs that could indicate your HVAC could need to be repaired:
Warm air
Insufficient airflow
Bad odors
Water leaks
Unusual noises
High humidity
Having a professional air conditioning technician take a look when you have one of these occurrences is the best route to take. An expert can diagnose the exact cause of the problem and go over your options.
Warm Air Is Flowing
When you pass by one of your home's vents and feel warm air blowing, check the thermostat first. Make sure the HVAC unit is set in cooling mode instead of the heating or fan option. This is a very common cause of warm air flowing through vents. Especially during the change of seasons or drastic weather shifts, homeowners forget to switch their thermostat to the right setting.
Once you have checked and switched to cooling mode, if necessary, lower the temperature setting below its current level. This allows you to verify that there is nothing else going on with your HVAC unit. A problem with the compressor or restricted airflow might be the cause of the problem if there is still warm air blowing out of your vents. It's best to call a professional instead of trying DIY fixes in this situation because of the complexities and precise calibration of a cooling system.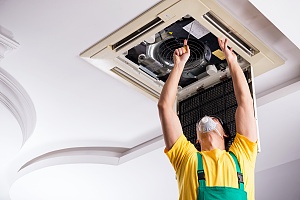 Insufficient Airflow In The System
A common indicator of an inefficient air conditioner is poor airflow. It could also mean that there is a blockage in your home's ductwork that's preventing air from moving through the system. A broken motor, clogged air filter, or more serious issue could be the cause of the insufficient airflow.
You should consider purchasing energy-recovery ventilation (ERV) if insufficient airflow is a common problem. An ERV unit works by trading stale air with fresh air when your system cycles, boosting your air conditioner's effectiveness. Another option is zoning systems that ensure the right amount of airflow and cooling power is available when it's needed. You should talk to a knowledgeable technician who can provide recommendations on your air conditioning needs for your home.
Bad Odors In The Air
Unpleasant odors in your home are never a good experience. If you suspect that the smells are coming from your HVAC system, dealing with it quickly is important before the odors grow worse. There could be bacterial growth like mold or dead pests that are to blame. Check if you can visibly see anything through your vents.
Calling an HVAC professional will expedite finding the cause of the odors. A diagnostic visit will quickly determine whether your air conditioner needs a full cleaning session, a tune-up or a more high-tech solution. Persistent microbial growth in an air conditioner can be eliminated using ultraviolet (UV) lamps. Another solution that addresses odor issues is ductwork cleaning.
Water Leaks From The Unit
Condensation is produced through the natural operation of an air conditioner due to its reliance on refrigerant for cooling a home. But these liquids should not leak into your home or accumulate outside the unit.
Your cooling system isn't running properly if there is pooled water or an active leak occurring near your air conditioner. The damage that leaks can cause damage to your home and can be serious enough to lead to structural issues. Call an air conditioning service technician as soon as a water leak is identified.
Unusual Noises Are Occurring
Low-level noises are common to hear when an air conditioner is starting up or shutting down. Loud, unusual, or sudden noises are not normal. These are indicators that the cooling system may have bigger problems. If you hear buzzing or rattling noises, it could be caused by a loose part. Grinding or whistling noises are usually more serious signals. A professional tune-up is the best way to identify the source of the noise. This problem won't go away on its own, so call a professional immediately.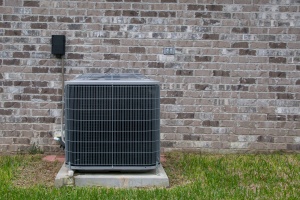 Humidity levels Are High
The weather outdoors in the spring and summer can be sticky and uncomfortable. But it shouldn't be happening when you are indoors. Air conditioners are designed to automatically moderate the humidity levels in a home. You may need air conditioning repair if moisture levels can't be managed by your cooling system in a comfortable range.
A recalibration might be a simple solution to high humidity levels. It may be difficult in some homes to keep humidity levels stable, given your HVAC unit's age and design. In these cases, a dehumidifier might be your best solution. Dehumidifiers can be connected to your existing HVAC system, and they come in many varieties to specifically target your home's needs.
Contact The HVAC Repair Experts
Servicing the needs of Maryland homeowners, Presidential Heating and Air Conditioning professionals are your experts when it comes to air conditioning service, repair, installation, and replacement. Since 1982, we've been working to serve the community with outstanding customer service. We carry heating and air conditioning systems that are of the highest quality. Schedule a consultation today to get help with your heating and cooling needs.